ShredAssured provides Confidential Document Destruction and Paper Shredding Services to clients throughout South Florida, including St. Lucie, Martin,
Palm Beach, Broward, Miami-Dade, Monroe, Collier, Lee, Hendry, Charlotte and Glades Counties.

Contact us for Prompt, Professional Service in the following South Florida Cities: Atlantis, Aventura, Boca Raton, Boynton Beach, Coconut Creek,
Coconut Grove, Coral Gables, Coral Springs, Davie, Deerfield Beach, Delray Beach, Doral, Fort Lauderdale, Greenacres, Hallandale Beach, Haverhill, Hialeah, Hollywood, Juno Beach, Jupiter, Kendall, Lake Park, Lake Worth, Lantana, Lighthouse Point, Loxahatchee, Mangonia Park, Margate, Miami, Miramar,
North Palm Beach, Oakland Park, Palm Beach Gardens, Palm Beach, Palm Springs, Parkland, Pembroke Pines, Plantation, Pompano Beach,
Port St. Lucie, Riviera Beach, Royal Palm Beach, Singer Island, Stuart, Sunrise, Tamarac, Tequesta, Wellington, West Palm Beach, and Weston.
ShredAssured, Inc.
5407 Haverhill Road N, Suite 340 | West Palm Beach, FL 33407
Phone: 561-753-4414 | Toll-Free: 1-800-838-3840

On the Web: Shred Florida | Shred Broward | Shred Miami | Palm Beach Shredding | Paper Shredding Drop Off | Residential Paper Shredding
Shredding yo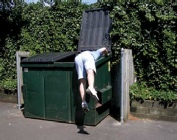 ur company's sensitive data is more than simply a good business practice - it's the law. Annually identity theft affects more than 10 million Americans and costs US companies $7 billion. Businesses today are held liable when confidential employee or customer information is not safeguarded.
Sensitive information, in the wrong hands, can become a serious liability. Whether your company is large or small, you have information that must be kept private. Customer lists, drafts of bids and letters, even memos, contain information about your business activity that would interest any competitor. Your business is also entrusted with private information about employees and customers which you are legally required to protect. In 1974 the Federal government enacted the Federal Privacy Act to protect the privacy of individuals and businesses. All government agencies as well as the private sector can be held liable if any personal information is released to unauthorized individuals.
In addition, there are growing public concerns about privacy and identity theft. Because identity theft is the fastest growing crime in America the government has created state and federal mandates to regulate information security. For example, Federal regulations regarding patient privacy (HIPAA), impose fines up to $25,000 per occurrence for knowingly compromising personal health information.
If your organization is privy to private information and that information becomes public, it could be argued in a court of law that you had a responsibility to protect it, and are, therefore, liable for any damages. To protect your organization against the risk of liability it is smart business practice to routinely shred stored records as soon as their retention period is up, and to routinely shred daily documents as soon as they have outlived their usefulness.
More Reasons to Shred:
1. Your Duty to Secure the Privacy of Others:
IDENTITY THEFT and information based fraud is the fastest growing crime in America! 1 out of every 5 people is a victim of identity theft. Victims spend an average of 200 hours over a 3-year period and spend over one thousand dollars of out-of-pocket expenses to recover from the effects of having their identity stolen.
• Protect your customers. — At the very least, you have an "implied contract" to protect their information, simply based on the fact that you are collecting their data to conduct business. They have a legal contractual right to expect you to take every precaution to protect it, which can only be accomplished by shredding the data before it is discarded. — Privacy laws require you to keep your customers' personal information private. Their confidential information can neither be disclosed to the public, nor to unauthorized personnel in your own office.
• Protect your employees (current and former) — They have a legal right to have their personal information secured by shredding their data before it is discarded.
2. Your Company's Information Security:
What would it cost your company, your customers and your employees if sensitive information were to fall into the wrong hands?
• Corporate Espionage
An estimated 7 billion dollars was lost last year alone to corporate espionage.
— Dumpster Diving is legal - The U.S. Supreme court has ruled that information thrown in your trash is fair game to anyone.
It's estimated that 70% of all espionage involves dumpster diving.
— The FBI estimates the theft of proprietary information costs U.S. corporations $42 billion annually.
• Competition
Make sure your business STAYS your business.
• Former and Current Employees
Employees are the most likely to realize the value of discarded company information. It is important to safeguard your company's proprietary information, not only from competitors, but also from unauthorized personnel within your own organization.
• Trade Information Rights
If you don't protect your trade information, the courts won't either.
3. Convenience:
• Attractive Locked Security Containers (consoles and/or bins) provided to you FREE of charge to be placed strategically in your facility, in locations convenient for your staff to use to dispose of confidential materials.
• No need to sort paper by color or grade or remove staples, paper clips, alligator clips, binding, or any other items attached to materials.
• Once your documents are easily placed in the locked security containers, within seconds your job is done!
• No need to call for routine service. We automatically have you scheduled for service - timely pickups are based upon your needs.
• Only ShredAssured and the designated contact within your organization has a key to access these security containers.
4. Cost Efficiency:
Are you still using an office shredder? Time is money!
• We can do it cheaper, more secure, and more efficiently than you can do with an in house office shredder.
— We guarantee you that the savings will be significant.
— In 15 minutes we can destroy what it would take an office shredder days to do.
— In-house shredding will not handle large volumes and may prompt employees to circumvent the destruction process.
• Stop wasting valuable employee time at the office shredder.
• No security container fees, travel fees, disposal fees or recycling fees with our monthly routine service.
• Free up office space from stored outdated information.
• Lower utility expenses.
• Eliminate equipment outlay and maintenance costs.
5. Peace of Mind:
No matter what, as a business owner or executive, you want to be assured you are doing everything you can to protect the interests of your company. In order to safeguard your company against legal problems and corporate competition crimes, it makes sense to have the peace of mind that comes with knowing your sensitive data is protected, employ ShredAssured as your corporate paper shredding service. Collect your paperwork, schedule a service appointment, and receive the proof the job has been done with the highest level of security and best practices with a Certificate of Destruction. This will take the risk away from your business and employees.
Please click here for more information, or give us a call at 1-800-838-3840 to find out how ShredAssured can help your company save money, protect its information, and comply with federal and state laws. Our client specialists are ready to assist and willing to help in any way they can.